A vessel traffic service (VTS) is a marine traffic monitoring system establsihed by a harbour authority or port authority. It can roughly be described as (the more well-known) air traffic control but for watergoing vessels instead of aircrafts.
In an area controlled by a VTS, vessels will notify the VTS of their presence and decleare their intentions. Simultaneously, they will recieve valuable data from the VTS; information that they can use as a foundation for their navigational decisions within the area. Examples of such data is information about the current condition of the shipping route, the traffic situation and any specific hazards.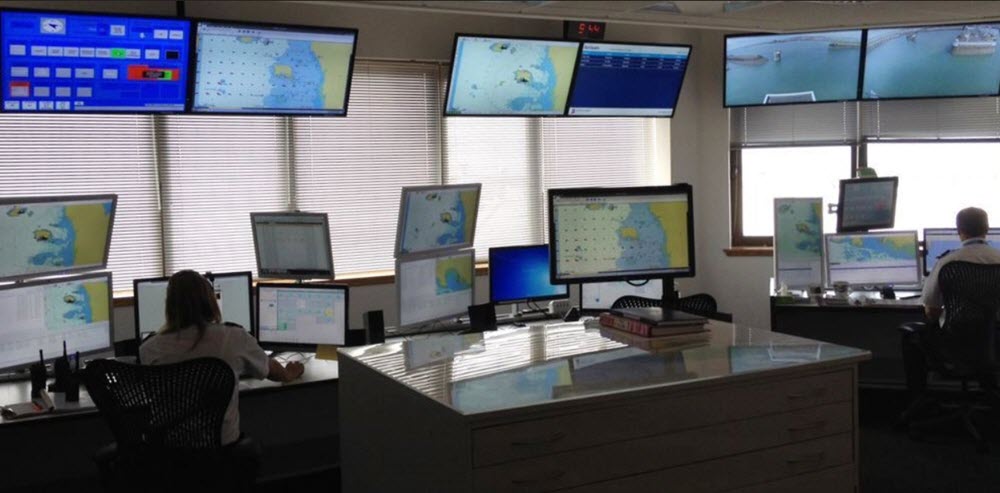 A VTS keeps track of vessel presence and vessel movements within its geographical area, with a focus on ensuring navigational safety. Among other things, they give vessels in the region access to an information service that continously provides navigational decision-makers onboard with data as essential information become available to the VTS.
A typical VTS will use a combination of tools and aids, such as:
Radar
Very high frequency (VHF) radio
Radiotelephony
Closed-circuit television (CCTV) and remote controlled video cameras
Automatic identification system (AIS)
In a modern control room, VTS staff is able to follow the movements of each individual vessel as they are displayed on a screen.
Information service
The VTS information service typically works by broadcasting data at fixed times and intervals, but the VTS can break this pattern if it is deemed necessary, or upon request from a vessel.
Examples of things that will be broadcast:
The identity of vessels in the geographical region
The position of vessels in the geographical region
The relayed intentions of vessels in the geographical region
Weather conditions
Waterway conditions
Hazards
Traffic organization
The VTS organizes traffic within its area to prevent dangerous situations and promote efficient vessel movements. This task is especially important when the traffic density is high or when one or more special transports are being carried out that may impact traffic flow within the area.
In some situations, the VTS will establish and operate a traffic clearance system to maintain good order within its port or harbour area. Another option is to so called sailing plans. Traffic clearance systems and the use of mandatory sailing plans are both ways of managing movement priority, space allocation, routing, speed limits, and similar.
A VTS can provide navigational assistance service to personnel responsible for navigational decisions onboard. This type of service is especially sought after in environments that are difficult to navigate, or when meteorological circumstances makes navigation more complicated than normally.
Navigational assistance service is typically something that a vessel must request to obtain, but the VTS can also contact a vessel and offer the service if they deem it necessary.
The automatic identification system (AIS)
The automatic identification system (AIS) for vessels is essential for the work of any modern VTS.
AIS is an automatic tracking system that captures the signals sent out by transponders present on the vessels. Examples of information transmitted by the transponders are:
Identification of the vessel
Position of the vessel
The vessel's course
The vessel's speed
Through AIS, the VTS can track the movements of individual vessels. The data is compiled, and displayed on a standard screen or by an electronic chart display and information system.
The International Maritime Organization's International Convention for the Safety of Life at Sea requires AIS to be fitted aboard all international voyaging ships with 300 or more gross tonnage (GT), and on all passenger ships regardless of size.
S-AIS
If satellites are used to detect AIS signatures, the system is called Satellite-AIS (S-AIS).
When vessels are out of range of terrestrial recievers, they can be tracked with the help of satellites fitted with special AIS recievers capable of detecting and deconflicting a huge numbr of signatures.